Doing a big spring clean can seem overwhelming, but it's time to sweep away the winter cobwebs. Chores like vacuuming and wiping the benches are  regular cleaning tasks, so it's time to get down to the bigger tasks we pretend don't exist for the rest of the year. We've got the best tips to keep your spring cleaning routine quick and easy, and make sure you don't forget those neglected spaces. You'll have more time to enjoy your spotless home in spring and get back to what you love doing!
Pre-Cleaning Prep
Make a Cleaning Playlist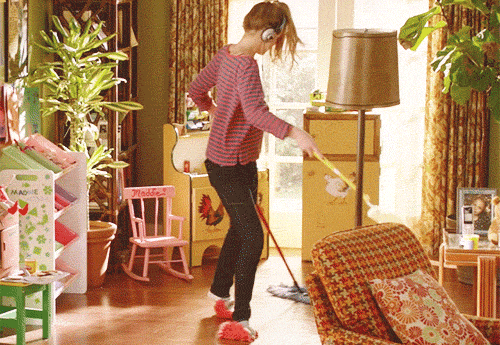 Create a playlist to keep you motivated while spring cleaning! Chores seem like a breeze as you jam out to your favourite songs. You might even burn a few extra calories having a little dance in between.
Priority List
Put pen to paper to write out what needs to be done, and prioritise each task to keep you on track as you tackle each job.
Brighten Dark Forgotten Places
It's time to clean out the closet, and all those spaces we close the door on and forget about!
The Oven
Okay, so you probably should've given the oven a good clean after dinner spilled over the tray… but here we are. If you're not a fan of the usual oven cleaning, try out a home-made baking soda and vinegar mixture to avoid harsh chemicals!
The Pantry & Fridge
The best plan of attack for the cupboard and fridge is to just take EVERYTHING out. Now that you've got a clean slate, wipe down the walls and shelves. Before you put EVERYTHING back, take the chance to throw away any food that's past its expiry date. And there you have it, it wasn't so bad, was it?
The Wardrobe
It's the same as the pantry and fridge on this one. It's probably easiest to take everything out of your wardrobe and start with a clean slate. Only put your essentials and items you love and wear on the regular back in. Put items that are out of season into a separate drawer or area to store. Then put your clothes that you no longer wear because it doesn't fit, you don't like it, or whatever other reason in a bag, ready to donate to charity.
You'll be able to find what to wear in the morning, without having to sift through clutter, and someone else will love that t-shirt that's been collecting dust for the past year.
The Garden
Spring is the perfect time to plant herbs and seeds in the your garden, so you can enjoy home grown summer veggies in the warmer months.
Give your garden beds a good weeding and then lay down some fresh mulch to keep the weeds away. Repot any plants that have outgrown their current home.
The Shower head
Is your shower head filthy and grimy? Do some holes not spray water properly? If you answered yes to either of these… this better be on your spring cleaning list!
To clean your shower head, pour distilled white vinegar in a plastic bag and secure it to the shower head with a rubber band, letting it soak for one hour. Once the hour is up, wipe the shower head clean with a damp rag and BOOM: you have a clean and functioning shower head.
You can also dab the rag into the bag of vinegar and shine up the fixtures.
Ta da! Now your shower is restored to the clean and serene space that it should be!
Post Cleaning Wind Down
Phew, you've done it! It's time to sit back and enjoy your clean rejuvenated home. Make sure you treat yourself and show your fabulous-self some appreciation!
Written by Monique Sparks
You might also like to read: